Celebrating 5 generations of Farmers & Butchers
---
Pork
Our pork is now supplied by Orchard Pork
Located on the Gloucestershire/Herefordshire border, Woodland Pigs are commited to producing naturally reared pork, to the highest welfare standards, free from stress.
Woodland Pigs are reared completely outside which allows them the freedom to enjoy thier natural environment.
Woodland Pigs are fed on home grown cereal based diets which we have complete control over, because they are reared naturally there is no need for medication or growth promoters.
Woodland Pigs are specially bred using Landrace and Duroc breeds, to produce cuts of pork renowned for succulence and flavour.
Locally Produced Meat
Woodland Pigs are pleased to provide the highest quality pork, giving consistency and traceabilty whilst minimising food miles.
Allied Livestock Market is one of the Uk's largest independent livestock marketing companies. With 20 years experience in marketing and ISO 9001 approved ALM supplies quality pigs, cattle and lambs to the Uk meat industry.
We are a family run business that over the last 73 years have forged strong ties with the local farming community, in this time we have learnt that if animals are allowed to grow and mature with the minimum of stress, high quality feed and the exceptional levels of animal husbandry the resulting meat will be superior, in tenderness and taste.
If you require top quality pork that tastes like pork should, the give Woodlands Pork a try.
(Information courtesy of Woodland Pigs)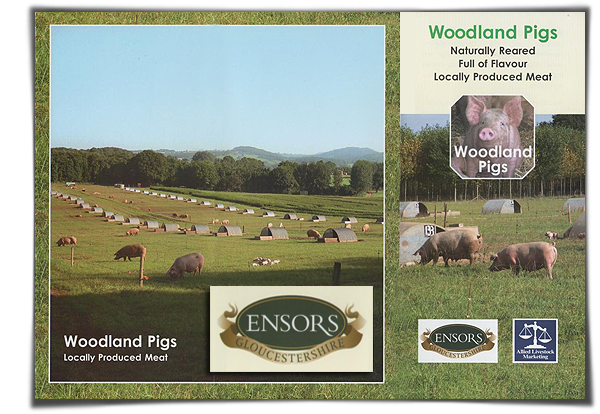 Our other supplier is from Ed Duberley at Harts Barn and Whitmore Farm. He is building up his Gloucester Old Spot Herd for sale at Gloucester Sausage Company.
Ed Says "Our Pig's love being outside in the summer and they do an important job in helping to manage any areas on the farm that are overgrown and we can't get to with a tractor. Diversity in their diet defiantly helps add flavour especially when they tuck in to the cider pressings!".
---